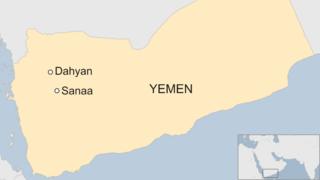 Children have been killed or wounded in an attack on a bus in northern Yemen, the International Committee of the Red Cross says.
The vehicle was travelling through Dahyan market in the rebel-held province of Saada at the time.
A TV station run by the rebel Houthi movement reports that it was hit by a Saudi-led coalition air strike.
There was no immediate comment from the coalition, which is backing Yemen's government in a war with the Houthis.
The coalition has insisted it never deliberately targets civilians but human rights groups have accused it of bombing markets, schools, hospitals and residential areas.
In a message on Twitter, the International Committee of the Red Cross (ICRC) in Yemen said a hospital it supports had received dozens of casualties.
The head of the ICRC's delegation in the country later said most of the casualties were under the age of 10, adding that the organisation was sending additional supplies to hospitals in the area.
The ICRC's communication co-ordinator in Yemen confirmed the reports to the BBC but did not offer any further details.
Almost 10,000 people – two-thirds of them civilians – have been killed since the Houthi movement took control of much of the north of the country, including the capital Sanaa, in 2014, forcing President Abdrabbuh Mansour Hadi into exile in neighbouring Saudi Arabia.
The following year, a coalition of Arab states led by Saudi Arabia intervened in the conflict.
Speaking to the BBC last month, Mr Hadi said that military intervention by the Saudi-led coalition had gone on longer than expected but the alternative, he added, was far worse.
Yemen war: 'Children killed' in bus attack}