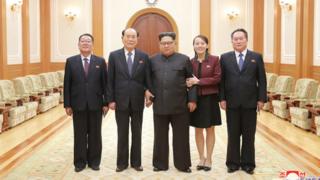 North Korean leader Kim Jong-un has praised South Korea for its "impressive" efforts in hosting the North at the Winter Olympics.
It comes came after the North's official delegation, led by Mr Kim's sister Kim Yo-jong, returned home from their landmark visit to Pyeongchang.
State media outlet KCNA said Mr Kim had thanked the South for "prioritizing" their visit to the Games.
North Korea's attendance has been seen as a significant warming in relations.
But there have also been concerns that it has allowed North Korea to win a propaganda victory.
"After receiving the delegation's report, Kim Jong-un expressed satisfaction over it," KCNA reported.
It said Mr Kim had been impressed by "the features of the south side, which specially prioritized the visit of the members of the Democratic People's Republic of Korea… and expressed thanks for them".
The North Korean leader also suggested "further livening up the warm climate of reconciliation and dialogue" between both Koreas, it said, and gave "important instructions" on doing so.
The report included an unusually casual picture of Mr Kim flanked by his sister and the North's ceremonial head of state Kim Yong-nam, both holding on to him.
Soft propaganda
Ms Kim and Mr Kim Yong-nam made up the most senior delegation from the North to visit the South since the Korean War in the 1950s.
However, Ms Kim's appearance at the Winter Games has been widely criticised, as she still remains on a US sanctions list over alleged links to human rights abuses in North Korea.
Ms Kim, who is said to be very close to her brother, was promoted to the North's powerful politburo last year.
The two Koreas have never signed a peace treaty to formally end the Korean War, and are in a constant state of mutual distrust.
But in a further sign of a thaw in relations, on Saturday Mr Kim invited South Korea's President Moon Jae-in to Pyongyang.
If the summit goes ahead, it will be the first meeting in more than a decade between Korean leaders.
Pyongyang's continuing nuclear ambitions hang over any attempts to bring the countries closer together.
North Korea is subject to a raft of sanctions from the US, the UN and the EU, which were imposed in response to its ballistic missile launches and nuclear tests.
Winter Olympics: Kim Jong-un thanks South Korea for 'impressive' effort