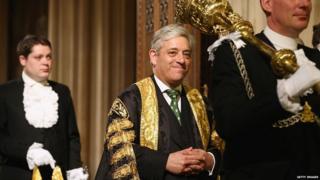 Commons Speaker John Bercow has acknowledged that "strong and differing views were expressed" in the House of Commons, after claims he called a cabinet minister "a stupid woman".
The Daily Telegraph reported he made the comments about Commons Leader Andrea Leadsom under his breath.
Mr Bercow's office said it would not comment on "suggested accounts of private conversations".
No 10 said the remarks, if proven to be true, would be "unacceptable".
Downing Street said that if an official complaint was made, it should be properly investigated.
Mrs Leadsom said, in her role as the government's representative in Parliament, she was focused on ensuring that "anyone who is bullied or treated unfairly" was "able to come forward and have their concerns and complaints dealt with in a rigorous and fair manner".
BBC political correspondent Alex Forsyth said the allegations would add to pressure on Mr Bercow following allegations of bullying from former members of staff, which he has denied.
'Controversial day'
The story in the Telegraph and the Sun suggests Mr Bercow muttered insults under his breath following prime minister's questions on Wednesday.
Asked to respond, the Speaker's office said: "Wednesday was an unusual and controversial day in how business was handled in the House by the government and some strong and differing views were expressed on all sides on the subject.
"The Speaker treats his colleagues with respect and strives at every turn to facilitate the House of Commons."
On Wednesday, the Commons Standards Committee voted against an investigation by Parliamentary Commissioner for Standards Kathryn Stone into the allegations of bullying made against Mr Bercow.
The Speaker's former private secretary, Angus Sinclair, has said Mr Bercow shouted and swore at him, and attempted to physically intimidate him.
Allegations have also been made about Mr Bercow's behaviour towards Kate Emms, who worked as his private secretary in 2010-2011.
'No substance'
A spokesman for Mr Bercow has said there is "no substance" to these allegations.
Mr Bercow's alleged comments about Mrs Leadsom came following a row between Labour and ministers over the scheduling of a Commons statement on the state takeover of the East Coast Main Line rail franchise.
Labour complained to Mr Bercow that the statement had been deliberately scheduled to limit time for its own "opposition day" debates on the legacy of the Grenfell Tower fire and the release of Brexit documents.
In response, Mr Bercow chided Mrs Leadsom and Transport Secretary Chris Grayling, saying nothing would stop him from upholding the rights of backbenchers to hold the government to account.
As Commons leader, Mrs Leadsom is responsible for scheduling government business in the Commons.
Some Labour MPs, including veteran Barry Sheerman, have come to the defence of the Speaker, arguing that ministers were to blame for breaching parliamentary protocol.
But Conservative critics of Mr Bercow – who when he was voted in as Speaker by MPs in June 2009 indicated he would serve nine years in the role – said pressure was mounting on him to consider his future.
Speaker John Bercow facing new outburst claims}