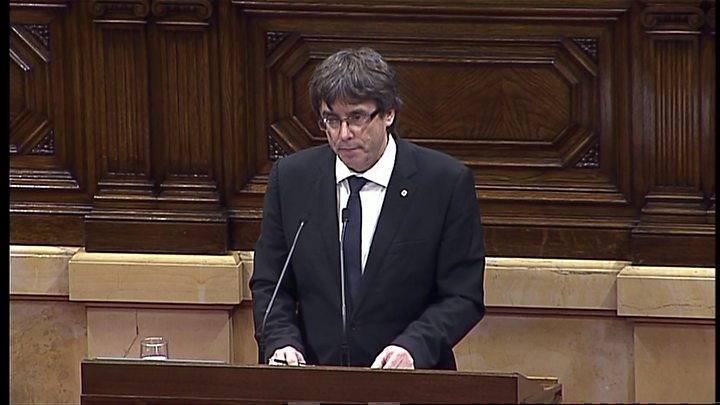 Catalan leader Carles Puigdemont has said his people voted for independence from Spain – but that he wants a negotiated solution with Madrid.
He asked the regional parliament in Barcelona to suspend the effect of the referendum so talks could begin, rather than breaking away immediately.
The referendum saw voters backing independence, Catalan officials say, but the vote was declared illegal.
Spain's government criticised Mr Puigdemont's latest statement.
"It's unacceptable to make a tacit declaration of independence to then suspend it in an explicit manner," a central government spokesman told AFP news agency.
Ahead of the referendum, the Madrid government deemed it illegal and Spain's Constitutional Court issued a ruling suspending the vote.
The vote resulted in almost 90% of voters backing independence, Catalan officials say. But anti-independence voters largely boycotted the ballot – which had a reported turnout of 43% – and there were several reports of irregularities.
National police were involved in violent scenes as they manhandled voters while implementing the legal ruling banning the referendum.
Mr Puigdemont told the regional parliament on Tuesday evening that the "people's will" was to break away from Madrid, but he also said he wanted to "de-escalate" the tension around the issue.
He hailed the referendum process and condemned the actions of the Spanish government, but acknowledged that people on all sides were worried about what would happen next.
"We are all part of the same community and we need to go forward together. The only way forward is democracy and peace," he told deputies.
But he also said Catalonia was being denied the right to self-determination, and paying too much in taxes to the central government in Madrid.
---
'Threat still on the table'
By the BBC's Tom Burridge, in Barcelona
The incredible game of cat and mouse between the Madrid government and the Catalan devolved government continues.
And that's been the tactic all along from the Catalan government. It's been putting threats on the table, it's been speaking to the media and saying: "We will go ahead and declare independence from Spain come what may"; "We will hold that referendum even though it has been declared illegal by the Spanish state, even though they try to arrest officials and try to break it up".
And now Carles Puigdemont is saying: "I am still going to declare independence from Spain, but I am giving them some time, a window."
That is a window where there can in theory be mediation – and we are hearing that there are mediation efforts by an international organisation, according to our sources, involving very very senior international political figures.
In a sense his stark warnings haven't changed. But he will still be under pressure, not only from his own party but other pro-independence Catalan parties which he depends on for a majority in parliament to actually keep this whole project going.
He's given them maybe enough, but is their patience going to run out? And then there's the other dimension in this – the Spanish government in Madrid.
---
Independence supporters had been sharing the Catalan hashtag #10ODeclaració (10 October Declaration) on Twitter, amid expectations that Mr Puigdemont would ask parliament to declare independence on the basis of the referendum law it passed last month.
But influential figures including Barcelona's mayor Ada Colau and European Council President Donald Tusk had urged Mr Puigdemont to step back from declaring independence.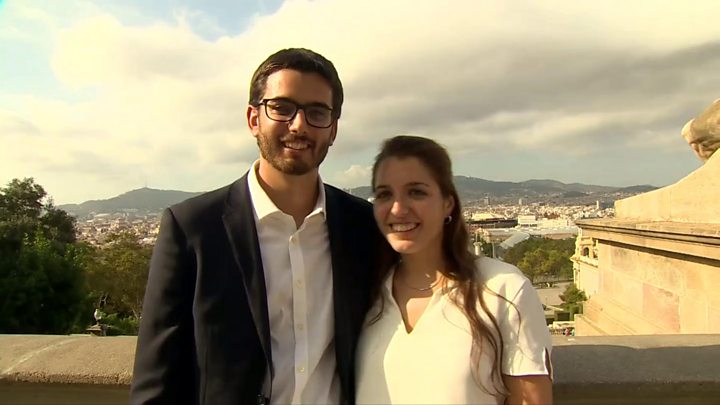 Mr Tusk said: "A few days ago I asked [Spanish] Prime Minister Rajoy to look for a solution to the problem without the use of force, to look for dialogue, because the use of dialogue is always better.
"Diversity should not and need not lead to conflict whose consequences would obviously be bad for the Catalans, for Spain and for whole of Europe."
The Madrid government had called on the Catalan leader "not to do anything irreversible, not to pursue a path of no return and not to make any unilateral independence declaration".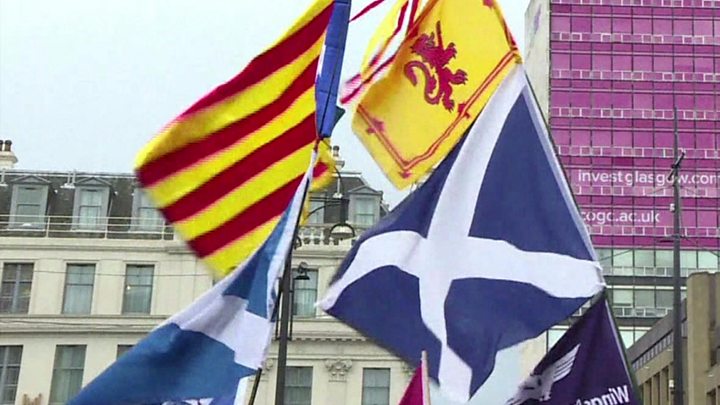 Catalonia, a part of the Spanish state for centuries but with its own distinct language and culture, enjoys broad autonomy under the Spanish constitution.
However, a 2005 amendment redefining the region as a "nation", boosting the status of the Catalan language and increasing local control over taxes and the judiciary, was reversed by the Constitutional Court in 2010.
The economic crisis further fuelled discontent and pro-independence parties took power in the region in the 2015 elections.
Attempts to hold a legal Scottish-style referendum on independence have got nowhere with the Spanish government.
Catalonia is is one of Spain's wealthiest regions, accounting for a quarter of the country's exports. But a stream of companies have announced plans to move their head offices out of Catalonia in response to the crisis.
The European Union has made clear that should Catalonia split from Spain, the region would cease to be part of the EU.
---
Are you in the region? E-mail us at haveyoursay@bbc.co.ukwith your stories.
You can also contact us in the following ways:
Spain Catalan crisis: Puigdemont seeks independence talks