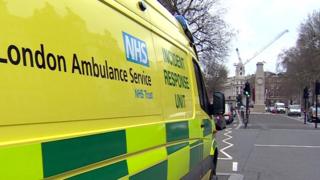 Labour MP Rupa Huq's Westminster office was cordoned off by police after a suspect package was sent there.
A staff member opened a package containing a sticky liquid, and was taken to hospital as a precaution.
The package contained what the Ealing Central and Acton MP said was a "Punish a Muslim" letter.
This follows the receipt of similar packages on Monday by fellow Labour MPs Mohammad Yasin and Rushanara Ali. These were later deemed non-hazardous.
A parliamentary spokesman said on Tuesday that two items of mail containing suspicious substances were investigated by the Met Police and were not found to be hazardous.
"The affected areas were temporarily cordoned off but no evacuation was necessary," the spokesman added. "One person attended hospital as a precaution."
Parliament has emailed all staff, warning them to "be on the alert for suspicious items of mail".
Ms Huq tweeted: "Staffer who went to hospital now discharged. There is a definite pattern. It was the letter that did the rounds at weekend and subject of Parliamentary urgent question yesterday which was received. Normal service now resumed – though scary experience."
Rupa Huq becomes third MP to get Islamophobic letter}