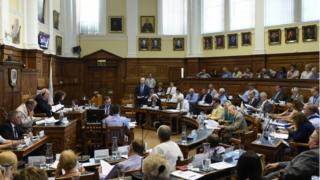 Massive cuts to jobs and services are expected to be approved by councillors in Northamptonshire later.
The county council, which is facing a funding shortfall of £70m, will discuss an action plan on Thursday that would see budgets for services slashed.
Children's services, road maintenance and waste management are among the areas in line for "radical" cuts.
Other councils face similar issues, with East Sussex planning service cuts to a legal minimum "core offer".
The government sent in commissioners to run Northamptonshire in April after the authority revealed a projected overspend of £21m for 2017-18.
But the council's director of finance was forced to issue a second spending control order to stave off a projected budget shortfall of £60m-£70m this financial year.
Northamptonshire's leader, Conservative Matt Golby, said balancing the county's books would require "some very difficult decisions" including "rigorous controls on spending, recruitment and contracts".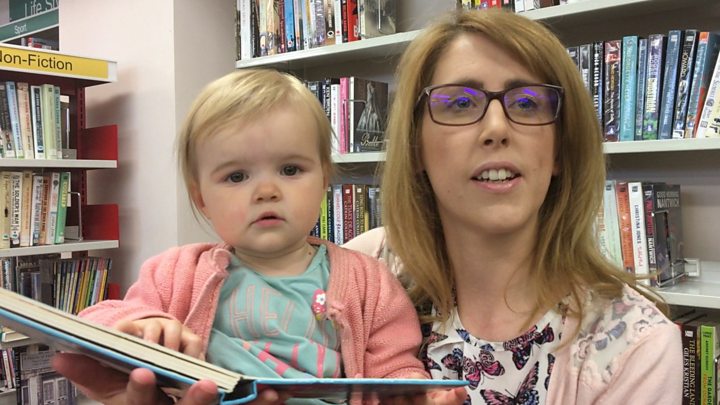 An unspecified number of redundancies are also expected to be proposed at Thursday's special council meeting.
The threat to cut children's services led to a warning from Anne Longford, the children's commissioner for England.
She said she feared the financial crisis at Northamptonshire County Council would have "catastrophic consequences" for some children.
The Department for Education said it was working across government to ensure Northamptonshire met its legal duties to children.
Research released by the County Council Network (CCN) in June suggested England's 36 shire authorities face funding pressures totalling £3.2bn over the next two years.
Vulnerable children facing 'catastrophe'
Commissioners take over troubled council
Cash-strapped council to sell £53m HQ
CCN chairman and Kent County Council leader Paul Carter said: "Shire counties face a triple whammy of funding reductions, rising demand for services and are the lowest-funded type of authority.
"Counties are shouldering a disproportionate burden and the elastic is close to breaking."
A Ministry of Housing, Communities and Local Government spokesman said: "The financial challenges facing [Northamptonshire] council are clearly serious and reinforce how important it was that we took swift action to appoint commissioners.
"These commissioners will continue to work closely with the council as it takes the necessary steps to rebalance its finances."
Northamptonshire council meets to vote on huge cuts}